So the Wall Switch Works but the Remote Doesn't…

August 4, 2016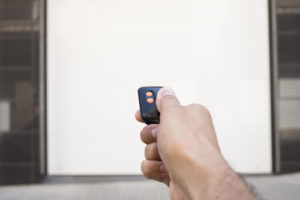 It usually takes some kind of malfunction for us to realize just how reliant we are on our garage door openers. Most of us use our garage doors more often than the front door, so their proper function is imperative. One common problem we get phone calls for is that a remote isn't working even though the wall switch seems fine. Here are a few steps to help you pinpoint the cause and determine whether or not you need to give us a call.
Make Sure the Door Isn't Locked
It sounds silly but sometimes the LOCK button on the wall receiver can be activated unknowingly. For most openers, this will shut down all wireless remotes leaving only wired controls working. This is a very convenient option for when you are away on vacation, but also commonly overlooked when troubleshooting problems.
Check Other Remotes
Most families have more than one remote for the garage door, especially if you have more than one vehicle. If the problem is occurring with more than just the one remote, the issue is not with the remote itself and usually points to the receiver. If it's just the one remote, the problem is probably contained within that remote.
Check the Batteries
This should usually be your first move, especially if the problem seems to be with only one remote. Open the battery compartment and check to make sure the terminals are clean and free of corrosion before replacing the old battery. If needed, wipe clean and be sure the terminals are properly connecting. Once you've replaced the batteries, you may need to press the operation button a couple of times before it works again. Most newer models won't need to be reprogrammed, but if things are still not back to normal, this may need to be your next step.
Try Reprogramming Your Remote
If more than one remote isn't working or you've tried replacing the batteries and are still having problems, you could try to reprogram your remote. All manufacturers have slightly different methods to do this, but most are fairly simple and straightforward. Check out your owner's manual for specific instructions.
Damage to the Remote Itself
More often than not, the issue is that the remote itself has simply reached the end of it's life expectancy. Sticky buttons, corroded terminals, or simply old age will eventually render your remote unusable. Fortunately, replacement remotes are inexpensive and readily available. If your opener itself is getting up in years (especially if it was manufactured before 1999) it is recommended to upgrade to a newer, safer model.
If after trying these tips you are still experiencing problems, please give our experts at Precision Door Service Salt Lake City a call anytime! We are here to help 24 hours a day 7 days a week.

View Financing Options
Precision's Average Rating





2912 Total Reviews