Tips for National Garage Door Safety Month

October 22, 2015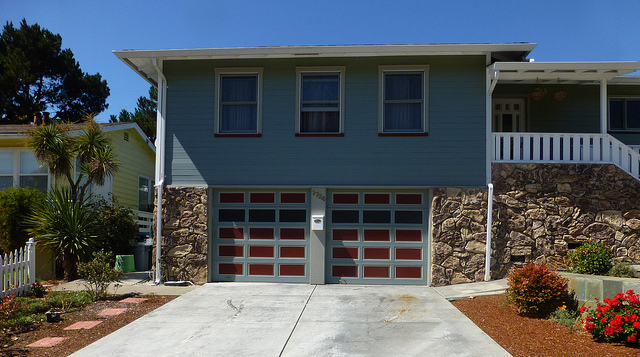 In light of National Garage Safety Month, we thought we'd share a collection of garage door safety tips to help keep your garage door operating smoothly and your loved ones safe from harm. By being mindful of a few simple guidelines, you can safely operate one of the largest moving parts in your home and ensure top performance from your garage door.

Garage Door Safety Tips


When operating your garage door, stay alert for peculiar sounds. A distinctive or jarring noise may be the first sign of worn and loose components or a misaligned door, which will require immediate inspection.
To avoid injury, keep hands, feet and fingers away from all moving parts. Also, make sure pets and children stay clear of the area. Garage doors are exceptionally heavy and dangerous— you don't want your loved ones to get hurt by any of the moving parts!

If you accidentally bump the door with your car, error on the side of caution and call a professional to inspect. Even a minor bump could cause a major misalignment, leading to the springs or the door breaking down quickly.

Safeguard against unexpected accidents from closing or opening the doors with others around by storing your garage door openers and wall-mounted remotes out of reach of children.

Try not to store your opener inside your car. If you have to, do your best to keep it hidden. If your car is stolen, a thief may have access to your home through the garage.

Always keep your garage door closed when you leave. And as an extra precaution, bolt the garage door before you leave for an extended period of time. If the garage door is left open, you may unknowingly expose your home to unwanted visitors by giving them access through the garage.

Maintain optimal performance of your door and avoid accidents by scheduling routine maintenance inspections. An unbalanced garage door is very hazardous to operate and could result in abnormal wear and tear or an accident.
Once you have pressed the control switch on your opener, stop and take a few extra moments to confirm the garage door has completely closed.

Install an 'electric eye', a fabulous safety device. The 'electric eye' is a sensor that is mounted a few inches above the ground on the garage door. When the sensor picks up any movement at all, the door will stop immediately.


We hope these garage door safety tips will keep your family safe from harm and help you maintain the health and performance of your garage door.
From all of us at Precision Garage Door of Salt Lake, we wish you a very happy National Garage Door Safety Month, proudly serving residential garage door clients in all of Greater Salt Lake.

View Financing Options
Precision's Average Rating





2912 Total Reviews